B.R.M.C.® WRONG CREATURES BOX SET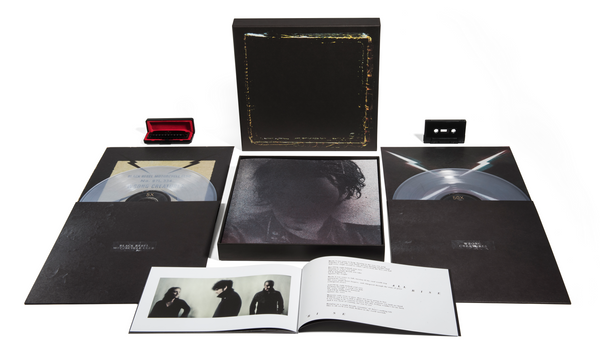 B.R.M.C.® WRONG CREATURES BOX SET
Features 2 Clear Vinyl LP's w/ Alternate Artwork. Custom BRMC Hohner Harmonica w/ Hard Case. Black Cassette Tape EP featuring unreleased songs. Exclusive 52-page Lyric/Photobook. 2 Exclusive Art Prints. 1 Double Sided Tri-fold Print.
BLACK REBEL MOTORCYCLE CLUB announces their forthcoming album WRONG CREATURES. The widely acclaimed California-based band consists of Peter Hayes (vocal, guitar, harmonica), Robert Levon Been (vocal, bass, guitar), and Leah Shapiro (drums). They've been crafting perfectly honed, bluesy, psychedelic garage-rock since 1998 and return with their 7th studio album. These rock and roll stalwarts have been praised by NPR for their "gutsy rock n' roll" while ROLLING STONE has called their sound "expansive" and ENTERTAINMENT WEEKLY has called it "deeply hypnotic narco-blues." WRONG CREATURES was produced by Nick Launay (Nick Cave, Arcade Fire). Recorded in Los Angeles, WRONG CREATURES takes a journey throughout rock's history, taking unlikely twists and turns, both peppered with historic influences but also having one foot firmly in the present. Their biggest focus remains in developing their own musicianship, never resting on their laurels, preparing to enhance the live experience they can offer fans. "We caught some cool performances on this record," says Hayes. 
TRACKLISTING: 
LP #1:
01. DFF (1:58)
02. SPOOK (3:47)
03. KING OF BONES (3:59)
04. HAUNT (5:56)
05. ECHO (5:01)
06. NINTH CONFIGURATION (6:58)
07. QUESTION OF FAITH (5:38)
LP #2: 
01. CALLING THEM ALL AWAY (6:42)
02. LITTLE THINK GONE WILD (3:19)
03. CIRCUS BAZOOKO (5:40)
04. CARRIED FROM THE START (4:47)
05. ALL RISE (5:37) 
U.S. and Canadian Shipping Addresses Only.